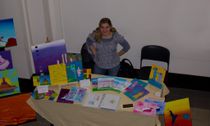 Last sunday we joined a hobby artist fair for the first time and we have to say it was a very interesting experiences.
It was in a rather small town in NRW/Germany, in a corner of a nice building called "Carolus Magnus Center" where we spent the whole grey sunday to present our arts and meet other artists. And drink reasonable good white wine. : )
One could find a variety of things - lots of jewelery, lots of x-mas decorations, hand made teddy bears, puppets, quilts, mini doll houses, cards, lamps - even elderberry liquor and tea.
And amongst the 4 "painters" exposing there one could find us-
NBartz -exposure new-bees, smilers, chocolate eaters.
Allthough we all would have been fine with more visitors, light and music I hardly realized the 8 hours going by.
As we're now prepared and experienced we'll for sure let you know about the next happening and hope to see you there.
And I simply have to advertise this:
I found my new favourite fashion label - Pauliz !!!
;)