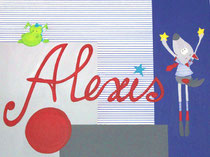 4th of April our little nephew has been born!
Am 4.April kam unser kleiner Neffe zur Welt!
My last project was for the family. You can all imagine how happy I was when I heared that the parents-to-be would like me to make something for their little baby boy. I always want to paint something, but it can be a little tricky if it is a surprise present. So in this case it was all perfect.
Actually I sent the drafts in the (almost) very moment when labour started; what a great example for my last-minute-intuition! : )
Mein letztes Projekt war familienintern. Ihr könnt euch sicher vorstellen, wie sehr ich mich gefreut habe als die angehenden Eltern mich gefragt haben etwas fürs Baby zu malen. Ich wollte sowieso gerne etwas für den kleinen Neuzugang malen, aber diese Art von Geschenk ist ja meist nicht unkompliziert. In diesem Fall lief also alles prima!
Tatsächlich habe ich die Skizzen geschickt, als in Frankreich gerade die Wehen einsetzten.
Das nenne ich mal wieder "Last-minute-Intuition". : )
The nursery was supposed to be under a certain theme:
Mr. Bouh from Sauthon.
So we took the colour palette from this theme and the main character to build a suitable frame for the name - which I got to know a couple of hours after I sent the drafts: Alexis was born.
And the little dragon? What is he doing there?
That's the representative of Alexis' big cousin! ; )
Das Kinderzimmer hatte bereits ein besonderes Thema:

Mr. Bouh von Sauthon.

Also wählten wir dessen Farbpalette und den Hauptcharakter als entsprechendes Beiwerk zum Namen. Welcher Name das genau sein sollte, erfuhr ich einige Stunden nachdem ich die Skizzen geschickt hatte: Alexis war da!

Und was soll der kleine Drache da?

Der ist Stellvertretend für Alexis' großen Cousin! ; )